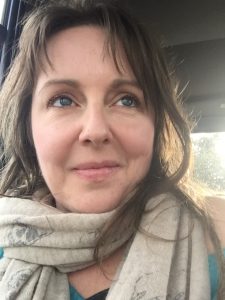 S. Shylene Schlackl
Ceremony and ritual have become very important to me and I believe death offers us a rich opportunity to bring some ancient and very important sacred presence back into our culture.
Why this work? 
In 2013, I knew 15 people who died. Many of these people were not close to me, but I was able to see how deeply each person's crossing affects our wider circles of belonging. And how each of us is connected and affected when someone we love, loses someone they love. In those 15 deaths, only a couple were old and only a few were sick, but most of them simply were gone without any warning. With this, I witnessed all the ways our community was unsure, unsupported and very traumatized. Seeing how our community is failing to serve each other has driven me to find solutions, offer assurances and create harmony in an otherwise overly stressful situation.
In the past few years, I was privileged to offer ceremony and ritual support to my family in the deaths of my uncle, my second cousins and my grandmother. When my grandmother was dying my family chose to have a home death. This was a rich experience being able to bring the beauty back into the nature of death. Here we witnessed four generations come together and honour our matriarch's final transition of life.
As the oldest of 32 grandchildren, on my mother's side, I have always played a leadership role in my family. Now that our parents, aunties and uncles are all ageing, I am in a position to lend emotional support and counsel to my cousins. Looking for a program or way to support my ever growing large family and my bigger community is why and how I started on this path.
For more than a decade I have been working in community development, and in these many years of serving my community, I have witnessed a large gap in our resources around the end of life. I have felt a strong drive to create a way to help my family and community ease the trauma around death and dying. Dedicated to helping build relationships, networks and resource sharing in community, I see end of life planning and support as the most important service I can provide. I enjoy working with all ages in our community and I see RestSure. as a way to continue to bridge the gaps in our culture. Helping family members to have a conversation about their wishes, their beliefs and their fears. Through deep and honest conversation, planning and organizing, I believe much ease can be brought to families, loved ones and communities.
RestSure. is my way of being of greatest service to my community.
For more information about me and my work, you can follow me online
We often FaceBook share our work and life so read us there.
https://www.facebook.com/restsure.ca/?ref=bookmarks
www.thecups.org (est. 2014)
www.mosaicthecity.com (est. 2004)
www.shylene.com (est. 1999)